Click on picture for larger image
CHRISTIAN JEWELRY & GIFTS
browse
© Copyright 2005 Silver Dog Design
Website designed and maintained by Silver Dog Design. All rights reserved.
Look to the Lord and his strength; seek his face always.
Psalm 105:4
Show me your ways, O Lord, teach me your paths; guide me in your truth and teach me, for you are God my Savior, and my hope is in you all day long.
Psalm 25:4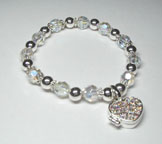 Heart Charm Bracelet
Silver and red beads with beautifully accented heart shaped charms
Rhinestone Heart Prayer Box Bracelet
Silver and iridescent beads with beautifully accented heart shaped prayer box
Click on picture for larger image